Support
My heartfelt thanks go out to all of you. This year has seen some incredible changes and challenges. Thank you for all your support, for your flexibility in adapting and changing often at the last minute. Thank you for being willing to engage with online sessions during lockdown and for embracing a new structure and location once we were allowed to resume face-to-face sessions. I am truly grateful and honoured that I can support you physically, mentally and emotionally during these times. Thank you.
Here is testimony to the value of support " We moved ourselves just before lockdown 1. I worked to hard and gave myself repetitive strain injury and a trapped nerve in my right arm. Deborah was so supportive giving me self-help exercises and stretches and relaxing me through counselling and guided meditation. Once a hand on therapeutic treatment was permitted, my arm improved more over 3 treatments than over 4 months of rest. I am now almost back to normal at Christmas 2020. What a year!"
Movement
Movement has been key in both the lockdowns so here is a gift see you through Winter to stimulate those happiness chemicals. Enjoy!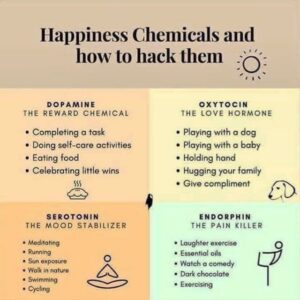 Structure
During lockdown I was noticing how shock was appearing in a body pattern and you kindly helped me do some research by completing a survey. The results are in.
100% had noticed pain in the body since a shock event, 19% in the shoulder, 16.6% in the neck, 11% in the head and arm- this is the upper body pattern. In the lower body 11.9% lower back, 9.52% hip, 7.14% knee and 11.9% foot.
This shows there is an upper and lower body chain stemming from the shock that comes from contraction that has been trapped the diaphragm muscles, which are located mid torso. The treatment is to work with the piece of chain that is presenting to loosen the link and bring about flexibility, pain free movement and glide back in the joints that make up our structure.
Giving
Winston Churchill said" We make a living by what we get, but we make a life by what we give". Gift vouchers are an amazing gift to give to someone you know and a great way to say thank you for caring and helping during this year so I am offering you a 10% discount for any voucher purchased during December and if you book 5 sessions receive 1 free.
As we support our loved ones here please would you consider donating to my chosen charity "Hope for Tomorrow Global' based in Burundi. Two areas are Fund a Farmer feed a nation and Giving the Gift of Education. The charity supports hygiene training to help prevent Covid and to establish Foundations for Farming which teaches and sets up families to have a piece of land to farm, giving them food both to eat and sell, which in turn enables families to pay for the children to go to school. If you would like to give a gift please visit http://www.hopefortomorrowglobal.org Thank you.
Sending you health, peace and joy at Christmas and into the New Year
Deborah